This century saw many changes. They began in 1802 with the making of a turnpike road across the north of the parish, linking Shipston on Stour with Brailes and Banbury.
(1)

Although it largely follows the line of the present B4035, the map made for the tithe award (1849) shows a right-angle bend encompassing land then a brick-kiln (Lot 5, 1797 map) and now part of the present recycling facility, taken for the road only after a legal battle.

(2)

A still earlier map, made for the sale of the Sheldon estate in 1806, shows an older track running from Shipston across the base of Borough Hill and joining the present road at Knollands Farm, hence the slightly odd bend at that point.

(3)

Its making was the second major change to the parish road system, altered when the much older north-south road from Halford bridge to Mitford Bridge was replaced in the 1730s by a turnpike on the west bank of the river the present A3400.

The sale of the Sheldon estate family to the slave owner, Samuel Gist of Wormington Grange, Gloucestershire, was agreed following a protracted series of negotiations. The final conveyance, dated 29 August 1806, named the tenants as Samuel Wheatley (in the manor farm), Richard and Robert Wincott, Francis Findon, William Baker, John Hopkins and Richard Brain; the total acreage was 712 acres, 3 roods 17 perches, sold for £25,500.(4)

Soon afterwards estimates for extensive repairs to the three farms indicate lax maintenance of the past decades.(5) The cost of fencing either side of the Honington road on Brain's lands (Lot 10, 1797 map) was estimated at £180 ; £416 was allowed for Mr Wincott's farm (Barcheston Grounds, Lots 8 & 11, 1797 map) to extend the barn, build a brewhouse, cheese chamber and provide the long-promised pump.(6) A coppice was planted bordering his land and that of the largest estate Manor Farm, the former manor house (Lot 7, 1797 map), for which a total of £1221 15s was considered necessary; £120 was for a dwelling house of two bays all in brick and slate, the rest was to pay for a barn of five bays, a cart house, granary, open sheds of 12 bays and a stable of two. Thomas Pain leased the Mill from 1811; it required extensive repairs throughout the century;(7) so too, to judge from the steady stream of complaints from successive tenants, did manor farm where a rotting beam above the dairy nearly caused the collapse of the old building.(8)

The estate remained in the Gist family for most of the century, it passed to his nephew, Josiah Sellick, who was required to change his name to Gist;(9) his son and grandson both inherited although when the latter came of age in 1853 he was declared a lunatic and his uncle's family ran the estate on his behalf.; a severe hail storm in 1851 prompted an inquiry about the advisability of rent reductions because of the extent of tenant losses;(10) high winds in the 1860s more than once stripped tiles from barn roofs and brought down elm trees ripe for sale.(11) A long series of accounts and rentals shows declining returns even before the agricultural depression of the 1880s.  The estate was sold in 1895, to John Staunton of Longbridge House who already had interests in Willington and nearby Tidmington.

A snapshot of Willington emerges by combining the information of the first national Census of 1841 with the lands listed for the Tithe Award – the commutation of produce given to the rector for a money payment – in 1839.(12) From the information of tithe award it is possible to map the lands attached to the seven farms, as well as the twenty-one cottages and the parish house. The population, totalling 193, inhabited a settlement only slightly larger than that revealed in the Hearth Tax some 170 years before, but probably little different in appearance..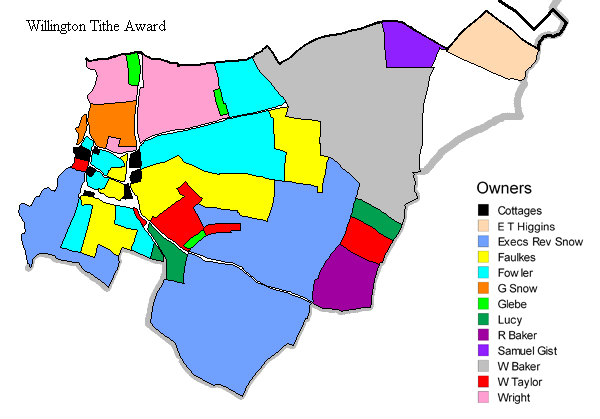 Colour
Key

Owner
Farmer
Acreage
Notes
Contribution
Glebe
5.3.19
£2.4.6
Wm Baker
Stephen
Stanbridge
142.0.26
£35.9.0
Ric Baker
Ric Baker
24.1.31
Fields only
£4.19.5
- Fowler
- Stone
92.3.17
£29.3.0
Execs of - Faulkes
Wm Baker
67.0.29
£17.12.8
Sam Gist
- Holtom
15.1.26
Fields only
£2.13.2
Edward Townshend Higgins
Ric Baker
25.3.05
Fields only
£6.1.0
Rev John Lucy
Wm Taylor
15.3.28
Fields only
£4.18.5
Execs Rev Snow
Ric Penson
224.3.35
£60.9.8
Giles Snow
Giles Snow
16.1.06
£5.1.10
Wm Taylor
Wm Taylor
39.2.14
£9.16.10
Edw Wright
Edw Wright
57.1.25
£18.14.0
This table is based on WaCRO CR 569/21(2) where the total acreage is given as 744 acres + an allowance for roads of 10.0.17 although the total titheable is said to be 729 acres
Two of the twenty-one cottages stood either side a pond on the verge on the east side of the road opposite College Farm, a third at the top and on the south side of the lane leading to Rushway; none of these remains. Five families lived in what is now a single dwelling (Cobwebs) and two others have recently been rebuilt in brick – at the bottom of the slope opposite Rushway. Others are represented in the present Brook Cottages. Only one cottage is documented, that acquired on behalf of the parish in 1827;(13) thereafter it seems to have been used first as a house for those on parish relief and, in the 1851 Census, as a school room for the village children for which the rectors sought subscriptions and contributions of food and clothing.(14)
The seven farms recorded in 1839 were of widely varying size. Only three seem to have been owner-occupied, the other four being tenanted and worked on behalf of absentee landlords. Giles Snow (aged 68) farmed his own 16 acres at Bridge Farm, William Taylor (aged 37) farmed 39 acres at Rushway, Edward Wright, noted as owner-occupier, farmed 57 acres at what is now Green End Farm. The most extensive lands were those of the Reverend Thomas Lambert Snow, the rector (1800-39), owner of 224 acres, farmed after Snow's death in June 1839 by Richard Penson; Stephen Stanbridge farmed the 142 acres at Famington while the Stone family property (now new barn conversions ) had 92 acres, some acquired as recently as 1797 from the Snow family.
The Taylor family also farmed lands belonging to the Reverend John Lucy, rector of Hampton Lucy, and those of College Farm on behalf of the executors of Faulkes. Richard Badger, by 1851 the tenant of Famington, farmed land belonging to Edward Townshend Higgins, while Holtom farmed 15 acres for Samuel Gist.(15)
In 1839 Willington was said to have 274 acres of arable and 454 acres of meadow and pasture; in Barcheston, a survey of around 1815 suggests arable use of 302 acres, while pasture and meadow accounted for 99 and 129 respectively.(16) Throughout the century the majority of Willington's population were agricultural labourers; 40 were registered in 1841 when a dressmaker, a shoemaker, a hosier and a governess were the only occupations not connected with the land. In 1851 the Census shows that owners, tenants and farm sizes had changed; Richard Penson then farmed 370 acres, not all his own and hard to map, but by 1881, just before the effects of the agricultural depression began to fall hard on both Willington and Barcheston, he, or his son, once again farmed only their own lands while new owners and tenants had taken over elsewhere.(17)
By then there were only 13 labourers in employment; the words 'no occupation' were entered against the names of five men. Subsidiary interests, however, included a butcher, a cattle dealer, a grocer, a carpenter who combined this with labouring work, a shoemaker and a dealer in goods unspecified.(18) Stocks standing on empty ground west of Bridge Farm were shown on the 1885 Ordnance Survey map, replaced by a pump on the same spot by 1922.

Barcheston in contrast remained as it had long been, with the rectory and a single cottage rebuilt in the twentieth century. The mill was tenanted by the Pain family from 1811 until 1871, and the manor farm (now called the manor house) was tenanted successively by the Wheatley, Pritchard, Canning and Marshall families until its sale in 1895. A pump was erected on the green east of the church. A cottage and a substantial barn, now Borough Hill Farm, was built fronting the turnpike around 1839 and two cottages for the labourers at Barcheston Grounds farm around 1869-70.(19) Folly House turnpike is not on any map, but a toll collector was named in the 1851 Census, his presence on the highway presumably representing a modification of the Turnpike Trust's original plan to have only three collection points - at Banbury Bar, Swalcliffe and Lower Brailes.
A lych gate was erected in 1911 to the memory of king Edward VIII; from a population of 118 world war I claimed five lives, commemorated on the memorial in the church. More and more housing now obscures the past. In Barcheston the cowsheds of 1811-12 are now smart houses and its only cottage, at the east end of the church, has been rebuilt on a larger scale. In Willington Lower Brook Cottages overlooking the river Stour were erected post-war and several later detached houses stand on the edge of what was once orchard. A third barn conversion will soon join the present two.
Administrative changes of the 1880s shifted power away from the parish. Roads are the responsibility of the County Council, not of the parish, itself now part of a combined benefice. The proximity of Shipston on Stour renders redundant the need for a shop, post office or school; neither settlement seems to have had a pub since the alehouse was shut up in 1451.
---
References:
1. An Act for amending the road..from Banbury…to the bridge crossing the river Stour, General Acts, 42 Geo III, 1802.

2. CR 580/123 1855.
3. Surveyed by Edward Jennings of Somerton, Oxfordshire, WaCRO CR 1253/2.
4. WaCRO CR 580/40/1-2; Gist's will, CR 580/60, February 10th 1815 considered "that it may be impolitic and perhaps improper in the Legislature of Virginia to liberate so many as 274 slaves" he desires that they be kept together for the benefit of his daughters, who are natives of that state".

5. WaCRO CR 580/40/1-2 1806; and CR 580/35/1-26 1806-1813; repairs needed, Shakespeare Centre Library and Archives (SCLA), ER 12/10/17 Estimate of Expenses, c.1807-08; there is also an undated survey probably of much the same time.

6. SCLA, ER 12/10/18.shows that Samuel Wright was in possession,
7. WaCRO CR 580/226, 252, 280.
8. WaCRO CR 580/232, letter 2 October 1837; CR 50/244; CR 580/259, letters 5 September and 9 October, 1859.
9. WaCRO, CR 580/60.
10. CR 580/120, 1851; CR 580/121/1-2 1851, 1856.
11. WaCRO CR 580/254, 259.
12. TNA HO 107/1131/1 (Ancestry); tithe award CR 569/21(2) or TNA Willington, IR 30/36/160 (map) and Willington IR 29/36/160 (text). The figure agreed was £200 4s 6d annually. The agreement made for Barcheston established a figure of £24 15s, replacing the modus of £4 long paid by the Sheldon family, WaCRO CR 569/20, 1849, Barcheston, map TNA IR 30/36/16 (1850), for the titheable parts only; text IR 29/36/16 (1849).
13. WaCRO DR 354/15-28.
14. TNA HO 107/2076; WaCRO CR 580/241.
15. The Holtom family are first recorded in the parish registers in 1799.
16. SCLA, ER 12/10/18, dateable from the tenants' names.
17. 1881 Census at TNA RG 11/3112, on Ancestery.
18. TNA RG 11/3112, on Ancestry.

19. WaCRO CR 580/232, 263.